close
What are you looking for ?
The Charter for International Family Mediation Processes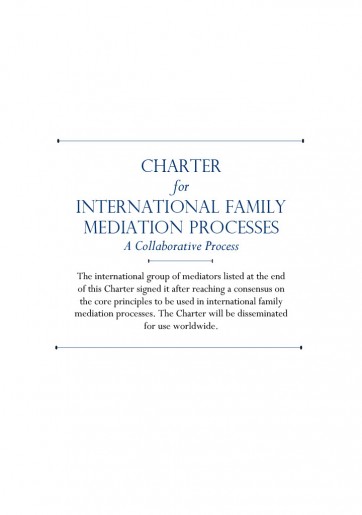 The Charter, published in 2017, is the fruit of an international working group of 55 professional mediators who serve as representatives and come from all seven continents. All established and recognised structures specialising in international family mediation across the world were part of this Collaborative Process. As an international document of reference, The Charter serves as a medium to strengthen dialogue and cooperation between mediators and administrative and legal bodies; for this reason, the initial work of the group took place in parallel to an international conference on child protection, focusing in particular on The Hague Convention of 1996 (read Conference Report).
As collectively decided in May 2017 in Geneva, this collaboration was being pursued with the aim to create a Global Network of International Family Mediators.
Published by the ISS General Secretariat
Available in English and French with the How to Use also in English and French